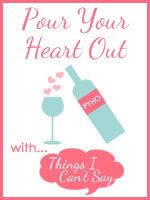 Time for some truth, people.
1. I have always been known, in my family, as the one (out of three children) who struggles the most with her weight.
2. I have always been known, in my family, as the "good eater," the "sugar addict," and so on.
3. I had a baby 10 months ago. When I got pregnant, I weighed 144 pounds. (I'm 5'3"). I was diagnosed with gestational diabetes, which turned out to be a blessing, because I only gained 19 pounds by following the mandatory diet.
4. I now weigh 143.5 pounds, and although I know it's *great* (barf) that I'm back to my pre-preggo weight, I am very, very, self-concious about my body.
5. Every time I look in the mirror, I notice my double chin, how my belly sticks out as if I'm still 3 months pregnant, how my arms flap in the wind, how much junk seems to be in my trunk.
6. Every time I eat with others- my family and my friends, I wonder if they are judging me for what I eat and how much I eat, because I am unhappy with the way I look.
7. I really used to like going to the gym after work, beating out stress on the treadmill or elliptical.
8. I am really, really, struggling with finding the time and motivation to exercise.
9. I really, really, want to lose (at least) 15 pounds. I want to feel good in my body, to be proud, physically strong, and confident in my body.
10. My mind is so full of negative self-talk, that I really truly doubt that I can physically accomplish what my mind and heart want to accomplish-strength, muscle, leanness, health.
I turn 30 on October 6th. When that day comes, I know I can look at my
life
and feel so blessed- I have had an incredible adventure as a teacher (which I hope to continue after our child(ren) get older, I have an amazing, faithful, perfect-for-me husband, a sweet, precious little boy and more loving family and friends than a girl could ask for. But on that day, I also want to reflect on my
self
, and feel proud. Part of that pride is going to come from losing these 15 pounds, by becoming strong and healthier. I'm praying by putting this into writing, it will help my resolve.
I can do this. I can do this. I can do this. I
will
do this.